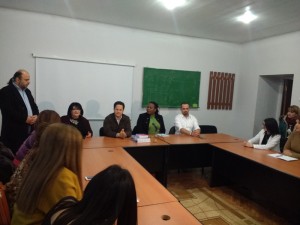 GPPAC Peace Education Working Group members Kesia-Onam Birch from Ghana, Carlos José González Hernández from Colombia and Ahmed Baqir Bukli from Iraq were hosted by the rector and the professors of Shirak State University. The latter were in Gymri to attend the "Peace Education for Peacebuilding" 2nd international conference organized by "Women for Development" NGO (WFD).
The meeting at the University aimed to present the experience of different countries in the field of "Peace Education and Conflict Management", lessons learnt and the success stories. Mainly students and professors from the Department of Psychology, practicing psychologists in schools, social workers, students doing their masters in military psychology were present.
Ahmed Bukli talked about the reasons leading to psychological traumas and the ways of overcoming them.
Leading the topic, Kesia Onam Birch told the story of Isaak's blessing from the Bible, the misunderstanding they had and within the whole story highlighted the role of mediation and negotiation in the peaceful resolution of the conflict.
The guests met with the rector Sahak Minasyan and vice-rector Anahit Farmanyan who asked for a possible collaboration with the GPPAC members via WFD NGO, for sharing the experience and lessons learnt in different countries with the purpose to integrate "Conflict management education" in the University in a non-formal education method.
[fbalbum url="https://web.facebook.com/media/set/?set=a.1721416581266105.1073741935.158335984240847&type=1″]