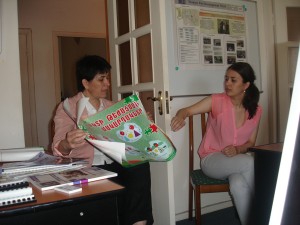 On June 11th, WFD welcomed around 20 students with their supervisor professor, from Department of social science at University of Paris, France. The trip to Armenia was a part of the their university studies. Prior to their visit to Gyumri, they had already visited Nagorono-Karabakh, Sevan and Yerevan, where they had an opportunity to meet different non-governmental organizations and get aquatinted with their activities.
Students were interested in our projects and activities, wanted to learn about the problems in Armenia and especially in Shirak region as well as talk about development progress and perspectives.
They raised various questions from cultural features and social issues to regional problems and conflict resolution. The meeting went in a warm atmosphere.