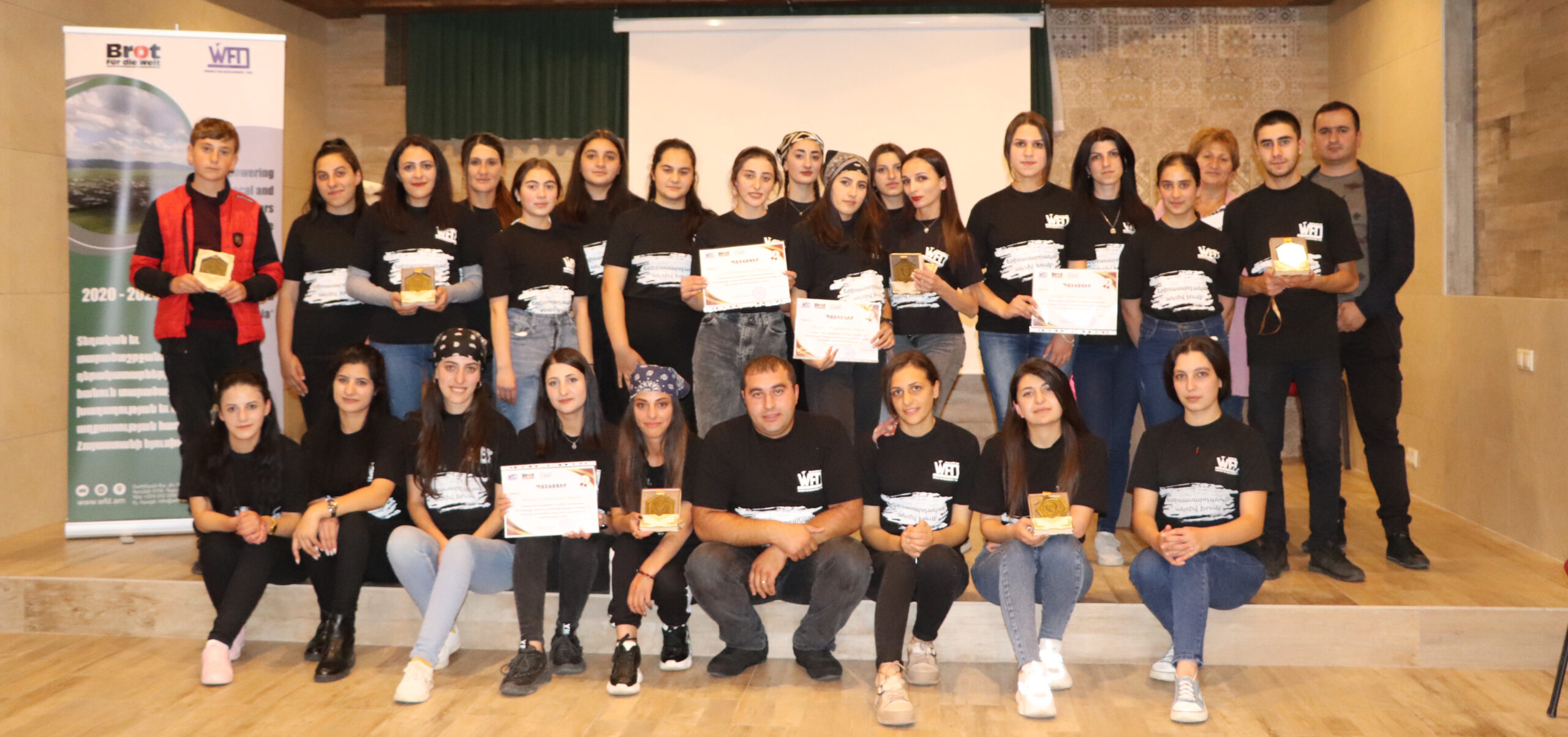 On October 2-3, "Conflict and Emotions Management. Communications Skills" training was conducted in Amberd hotel complex. 30 youth active group members from WFD NGO beneficiary communities took part in the training․
During this retreat, the results of "My Community" video contest, announced by WFD NGO were also summarized. 5 youth centers from WFD NGO target communities, as well as Lanjik secondary school participated in the contest. Participants had an opportunity to watch all videos, after which the winners were announced. Upon the decision of the selection committee, 1st place was granted to Lanjik secondary school, 2nd place winner was youth active group of Salut village, and the 3rd place was granted to the members of Goghovit youth active group.
Apart from the 3 winners, the selection committee distributed special awards to the representatives of youth active groups from Torosgyugh, Pokr Sariar and Anushavan villages. Pokr Sariar community received Jury Sympathy award, Torosgyugh community received The Best Shooting award, and Anushavan community received Comprehensive Coverage award. WFD NGO prepared special prizes for all 6 youth active groups, who participated in the contest, based on their specific needs.
You can watch the videos prepared by the youth groups members with the followed links:
"My Community" – Lanjik: https://www.youtube.com/watch?v=dUfo2Wz9qdo
"My Community" – Salut: https://www.youtube.com/watch?v=Hs1K8ZXnQZs
"My Community" – Anushavan: https://www.youtube.com/watch?v=YkzxPr_oqoQ
"My Community" – Torosgyugh: https://www.youtube.com/watch?v=OOxz38jIynw
"My Community" – Pokr Sariar: https://www.youtube.com/watch?v=ofM0B4TreoE
"My Community" – Goghovit: https://www.youtube.com/watch?v=h0vvSvN0Pyg