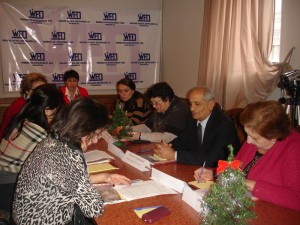 December 14-16, 2012 WFD organized a working group meeting for "Peace and conflicts resolution education in schools of Armenia" in Gyumri. The working group included heads of National Institute of Education regional branches, teachers and vice-principles of some schools where peace education course is implemented.
The goal of this meeting was to analyze the process and results of "Peace and conflict resolution education in schools of Armenia" initiated and introduced by WFD in eleven regions of Armenia (November 2011-December 2012). WFD presented the results of peace education analysis, especially in terms of reduction of violent conflicts in schools.
A report and suggestions were prepared and addressed to Mr. Ashotyan, RA Minister of Education and Science, Mr. Ghukasyan, Director of RA National Institute of Education and other decision making bodies. It recommended promoting integration of peace and conflict resolution as a mandatory course in school curriculums of Armenia.
A video and publications about the meeting can be found here (in Armenian):
http://www.shanttv.com/am/news/gyumrinews/2012_12_15/12648/
http://tsayg.am/hasarakutyun/1786-u-ss-s-s.html
http://www.asparez.am/news-hy/konfliktner_petqe_karavarel-hy/
http://www.armtown.com/news/am/azg/20121218/2012121816/