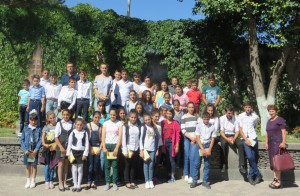 An educational meeting was organized for the members of the forum theatres established in Torosgyugh, Tsoghamarg and Lanjik communities. The meeting aimed to summaries the series of trainings held on "Conflict Management", as well as share experience and build closer ties among the schoolchildren of the said beneficiary communities.
Interactive teaching and games conducted by WFD NGO education department officer Susanna Ghazaryan helped to even better understand the topics and create an open atmosphere for the participants. 
The members of Torosgyugh forum-theatre staged a small performance for the participants of the meeting which was really inspiring for those present. The latter actively replaced "the actors" and played the role in a way to achieve positive outcome for the displayed conflict.
At the end of the meeting the participants said that the training was very interesting, different in format and quite informative. The games helped them learn to better communicate, to view the conflict from the other party's point of view and find a peaceful resolution for it. The majority expressed a wish to often organize similar meetings, which enabled them not only to gain new knowledge, but also make new friends as well and have joint discussions on the topics of interest.